Richard Petty
Bio, Net Worth, Racing Driver, Family, Facts, Wife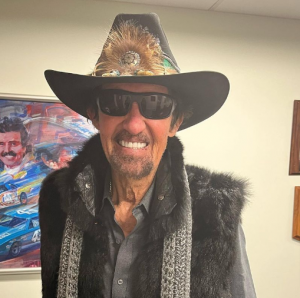 Richard Petty Biography

Full Name
Richard Petty
Age
86 Years old.
Birth Name
Richard Petty
Birth Date
1937-07-02
Gender
Male
---
Richard Lee Petty is an American former stock car racing driver who comes to light for racing from 1958 to 1992 in the former NASCAR Grand National and Winston Cup Series. He is excellently known as Richard Petty. He won the Daytona 500 seven times over the course of his legendary career. His racing team Richard Petty Motorsports became one of the most successful teams on the circuit. Richard grew up racing, as his father was a champion racer himself. He was also the first driver to win the Cup Series championship seven times, while also winning a record 200 races during his career. This included winning the Daytona 500 a record seven times and winning a record 27 races in one season (1967).
Richard was also the first driver to win in his 500th race start, being joined by Matt Kenseth in 2013. He was inducted into the inaugural class of the NASCAR Hall of Fame in 2010. Besides, he has made an appearance in "Cars (as well as "Cars 3") as The King, a character partially based on himself. He was also named one of NASCAR's 50 Greatest Drivers in 1998 and was awarded the Medal of Freedom by President George Bush in 1992. Additionally, he is also active on social media as he has earned more than 73.6K followers on his Instagram account and over 18.1K followers on his Twitter account.
Richard Petty's Personal Details.

Place Of Birth
Level Cross, Randolph County, North Carolina, U.S.
Birth Nation
America
Nationality
American
Ethnicity
American-white
Religion
Christian
Race
White
Horoscope
Cancer
Richard Petty Background: Early Life and Parents
Richard Petty took birth on 2nd July 1937 with the real name of Richard Lee Petty in Level Cross, Randolph County, North Carolina, U.S. He is of American nationality and came from American-white ethnic background. Likewise, his religious belief is in the Christian religion and his race is white. Petty celebrated his 85th birthday in 2022 and as per his birthdate, his star sign is Cancer.
Richard Petty's Family Details.

Father
Lee Petty
Mother
Elizabeth Petty
Siblings
1
His father, Lee Petty was an American stock car racing driver who competed during the 1950s and 1960s. His mother's name is Elizabeth Petty. Richard's father died on 5th April 2000. He also had one sibling, a brother named Maurice Petty who was an American NASCAR crew chief and engine builder for Petty Enterprises, of which he was part owner. Sadly, he passed away on 2nd July 2020.
Talking about Petty's education, he was educated in Randleman, North Carolina, and attended Randleman High School, where he was an All-Conference guard on the football team
Richard Petty Racing Career
Richard Petty kicked off racing in NASCAR on 18th July 1958 where his first race was held at CNE Stadium in Toronto, Ontario, Canada and was named NASCAR Rookie of the Year, after he produced 9 top 10 finishes, including six Top 5 finishes in 1959.
Then he finished 2nd in the NASCAR Grand National Points Race, got his first career win at the Charlotte Fairgrounds Speedway in 1960, and led 184 of the 200 laps to capture his first Daytona 500, en route to 9 victories, earning over $114,000 and his first Grand National championship in 1964, driving a potent Plymouth with a new Hemi engine.
He overcame a 2-lap deficit to win his second Daytona 500 on 27th February 1966 when the race was stopped on lap 198 of 200 because of a thunderstorm.
He also won his second Grand National Championship as one of the 27 victories was the Southern 500 at Darlington, which would be his only Southern 500 victory.
He won 16 races including the last ever race at Occoneechee Speedway in 1968 and win 10 races and finish second in points.
He also won his third Daytona 500 on 14th February 1971, driving a brand-new (for 1971) Plymouth Road Runner and beating Buddy Baker.
In 1972, STP started what would turn into a successful 28-year sponsorship arrangement with Petty, however, it marked the end of his famous all "Petty Blue" paint job.
1975 was another historic year for Richard, as he won the World 600 for the first time in his career, one of 13 victories en route to his 6th Winston Cup.
As well, he won the Daytona 500 in an Oldsmobile Cutlass Supreme in the "Famous Finish" and ran most of the remaining races in a Chevrolet, winning four additional races and taking the NASCAR championship for the seventh, and last, time by 11 points which was the closest points margin in NASCAR history until 1992.
He also won two more Daytona 500s in 1979 and 1981 and snapped a 45-race drought, winning his sixth Daytona 500 in 1979, the first to be televised live flag-to-flag; it would become notorious for a fistfight between competitors following the controversial finish.
He won the race as the first and second-place cars of Donnie Allison and Cale Yarborough crashed on the last lap and won two races early in the year at North Wilkesboro and Nashville but a violent crash at Pocono in July ended his championship hopes in 1980. He finished 4th in points.
While the 1981 season gave Richard 3 wins, he felt the season was a failure, and the Regals being ill-handling and poor in reliability and made the move to the Pontiac Grand Prix, with the promise of substantial factory support from Pontiac for 1982.
He broke his 43-race winless streak from 1982 with a win in the 1983 Carolina 500 in 1983, barely edging out a young Bill Elliott, and spent '84 and '85 driving for Mike Curb before returning to Petty Enterprises in 1986.
He finished second in a Grand National Car while winner Bobby Allison drove a Grand American car because of the 1971 Myers Brothers 250 combination race 1971.
He won what under modern regulations would be recognized as his 200th Cup class win on 20th March 1984, the Budweiser 500 at Dover International Speedway, when the Winston-Salem class win is recognized.
He also won his officially-recognized 200th (and what would turn out to be his final victory) race at the Firecracker 400 at Daytona International Speedway on 4th July 1984.
He traveled to Australia to help promote a NASCAR exhibition race at the then-new Calder Park Thunderdome in early 1988, the first NASCAR race outside of North America.
While Petty did not compete in the track's inaugural race, the Goodyear NASCAR 500 (though his son Kyle did), in testing at the 1.119 mi (1.801 km) track which owner Bob Jane had modeled on the Charlotte Motor Speedway, Richard Petty set an unofficial lap record of 28.2 seconds (142.85 mp/h).
This would have in fact landed him in pole position for the race as the fastest time in official qualifying was by Alabama Gang member Neil Bonnett who recorded a 28.829-second lap (139.734 mp/h) in his Pontiac Grand Prix.
Richard announced on 1st October 1991 that he would retire after the 1992 season as his final top ten finish came at the 1991 Budweiser at the Glen which was the same race J. D. McDuffie was killed in a fifth lap accident. Petty chose to run the entire 1992 season, not just selected events as other drivers have done before retirement.
He qualified on the front row for the first time since 1986 at the 1992 Pepsi 400 on 4th July and barely managed to qualify at Atlanta, posting the 39th fastest speed out of 41 cars.
NASCAR participated in a tire test at the Indianapolis Motor Speedway on 18th August 1993, in preparation for the 1994 Brickyard 400.
He led the field through several pace laps in his Plymouth Belvedere at the 2017 Southern 500 at Darlington and apparently stayed out a lap longer than expected, and was humorously black-flagged by the starter. Petty followed the pace car down the pit road at the start of the race.
Furthermore, he developed the career of crew leader Robbie Loomis, who was at the helm of Petty Enterprises as crew chief in the 1990s and won three races the 1996 Checker Auto Parts 500 at Phoenix, and the 1997 ACDelco 400 at North Carolina Speedway.
Later he moved to the television broadcast booth joining CBS as a color commentator in 1995 and he was also in 1978 as well as he was reelected to the county commission in 1982, 1986, and 1990.
He formed a political action committee to support Republican candidates and in 1996, he was the Republican nominee for North Carolina Secretary of State.
Moreover, Richard is currently a spokesman for Liberty Medical, Cheerios, and GlaxoSmithKline products Nicorette and Goody's Headache Powder.
He has also recorded public service announcements for Civitan International, a nonprofit organization of which he is a former member.
Film and TV appearances
Richard was also seen as playing himself in the 2008 film "Swing Vote", where he commends the film's protagonist by allowing him to briefly drive his famous "43" Plymouth.
He was chosen to be the Grand Marshal for the 2011 STP 400 of the Sprint Cup Series in May 2011 and purchased a 90-acre (36 ha) ranch south of Jackson, Wyoming.
He starred in the Tom Cruise movie "Days of Thunder" (1990) and appeared in the Burt Reynolds movie "Stroker Ace" (1983) as himself.
He was seen as himself in the movie "43: The Richard Petty Story" (1972) and appeared as himself in the movie "Speed Zone" in 1989.
As well, Petty was in "Petty Blue" which is a documentary by NASCAR whereas he also starred as himself in the (1965) Howard Hawks film "Red Line 7000".
Awards and Achievements
1964, 1967, Grand National Series Champion
1971, 1972, 1974, 1975, 1979 Winston Cup Series Champion
Tied with Dale Earnhardt and Jimmie Johnson for most NASCAR Cup Series Championships (7)
1964, 1966, 1971, 1973, 1974, 1979, 1981 Daytona 500 Winner
1967 Southern 500 Winner
1975, 1977 World 600 Winner
1983 Winston 500 Winner
All-Time Wins Leader in NASCAR Cup Series (200)
All-Time Poles Leader in NASCAR Cup Series (123)
Holds the record for most NASCAR Cup Series wins in a season (27 in 1967)
Holds record for most consecutive NASCAR Cup Series wins (10 in 1967)
Most all-time wins at Daytona International Speedway (10)
1959 Grand National Series Rookie of the Year
NASCAR's Most Popular Driver (1962, 1964, 1968, 1974, 1975, 1976, 1977, 1978)
Motorsports Hall of Fame of America (1989)
International Motorsports Hall of Fame (1997)
NASCAR Hall of Fame (2010)
Diecast Hall of Fame (2011)
Named one of NASCAR's 50 Greatest Drivers (1998)
Presidential Medal of Freedom (1992)
Is Richard Petty married?
Richard Petty is a married racer. He tied the knot with his wife Lynda Owens in 1958. Unfortunately, she died on 25th March 2014, at her home in Level Cross, North Carolina at age 72, after a long battle with cancer. The couple had four children, one son named, Kyle Petty, and three daughters named, Rebecca Petty Moffit, Lisa Petty Luck, and Sharon Farlow. The family currently resides in Petty's hometown of Level Cross, North Carolina.
Richard Petty's Maritial Status.

Marital Status
Married
Spouse
Lynda Owens
Children
4
Sexual Orientation
Straight
Richard's son was also a NASCAR driver. His grandson Adam (Kyle's son), was killed in a practice crash at New Hampshire Motor Speedway on 12th May 2000, five weeks after the death of Lee Petty. Talking about Richard's current love life, he is living a single life after the death of his wife. Concerning his sexual orientation, he is straight.
Richard Petty's Net Worth
Richard Petty's Networth & Salary.

Source of Wealth
Racing career
Net Worth
$65 million
Salary
$110,924 per year
Richard Petty has a net worth of $65 million as of 2023 and he has also a handsome amount of salary which is around $110,924 per year. With a tremendous amount of net worth, he is living a lavish and luxurious life. He has reached great heights in his career already. Throughout his career, Richard has achieved huge fame and success.
He has also done endorsement work for several brands from where he gained a fine amount of money. Richard has earned a considerable amount of money through his successful racing career which was also his major source of income. In November 2010, an investment group including Medallion Financial Corp., Douglas G. Bergeron, and Richard, signed and closed the sale of racing assets of Richard Petty Motorsports. Andrew M. Murstein, president of Medallion, had been seeking a sports investment since 2008 when he formed a special purpose acquisition company together with Hank Aaron, a Medallion board member, and others.
Richard Petty Height and Weight
Richard Petty stands at a tall height of 6 ft 2 in / 188 cm with a balanced body weight of 74 kg. He has light brown hair and eyes color. His heartwarming smile, his entire demeanor, and his gradual escalating popularity in the racing him the perfect catch.
Likewise, his body build type is slim, and being in such an old age, he has kept his body maintained, fit, and fine which is so awesome to look at.
Richard Petty's Body Measurements.

Height
6 ft 2 in / 188 cm
Weight
74 kg
Hair Color
Light brown
Eye Color
Light brown
Body Type
Slim